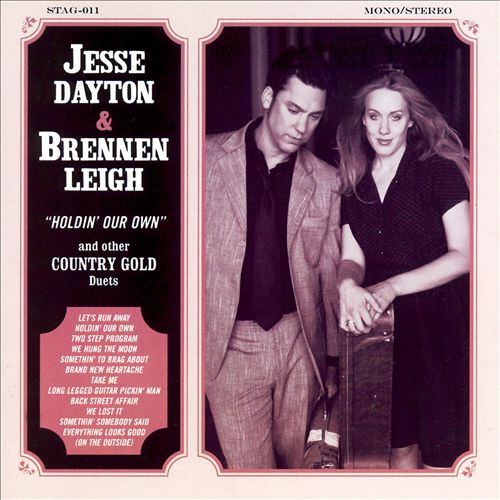 Holdin Our Own
Track List
1  Let's Run Away
2  Holdin' Our Own
3  Two Step Program
4  We Hung The Moon
5  Somethin' To Brag About
6  Brand New Heartache
7  Take Me
8  Long Legged Guitar Pickin' Man
9  Back Street Affair
10  We Lost It
11  Somethin' Somebody Said
12  Everything Looks Good (On The Outside)
Product Description
Holdin' Our Own
By Jesse Dayton and Brennen Leigh
"Holdin Our Own", released on November 27, 2007, is Jesse's duet recording with Austin singer songwriter Brennen Leigh. "Holdin' Our Own and Other Country Gold Duets" (the complete title) contains mostly Dayton & Leigh originals, with a few classic duet standards to drive the vintage sound home. The set pays tribute to 50's dance ballads with "We Hung The Moon". It's golden harmonies reminiscent of 70's couples like George & Tammy, Johnny & June, and Conway & Loretta.
One of the finest artists currently recording music is almost unheard of outside of Austin, Texas. He has a strong following, a mass of fans, he tours, has a handful of amazing discs released, he's played with the Dixie Chicks, Johnny Cash, Waylon Jennings, and Willie Nelson. He's done studio work for others, as well. Here Dayton taps another virtually-unknown-outside-of-Texas artist and together they have produced a work of powerful real country music duets that might even put to shame those of George and Tammy. Yeah, I think Dayton's that good. And Leigh is no slouch, either.

Putting together two strong voices who also happen to write truly tremendous songs is something that just couldn't possibly go wrong, and in this case, it sure does not. Most of the duets on Holdin' Our Own, including the title track, are originals written by the duet partners, continuing to prove Dayton's songwriting skills; that Brennen Leigh can "hold her own" with Dayton proves her formidability, as well. Leigh has been singing and playing bluegrass music (fiddle, mandolin, and guitar) with her brother, Seth Hulbert, since she was twelve. Her solid country music background (and I don't care what people these days say, "bluegrass" is COUNTRY music) merges well with Dayton's hard-charging outlaw country style.
Source – Review by Kathy Coleman for CountryMusicAbout.com